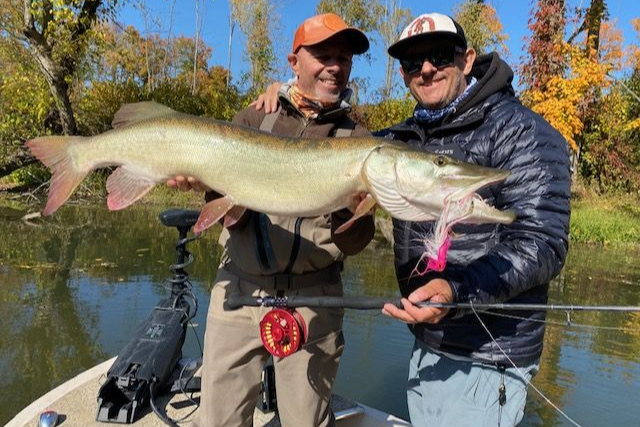 Our Musky and Pike fishing trips will take place on several different waterways located in Western PA. These trips are geared towards the "hardcore" serious fly angler who can handle the physical rigors, not to mention the mental toughness needed to chase the apex freshwater predator. Being able to cast big meaty flies is a necessity!
So if you feel you're up to the challenge and would like to experience the ultimate fly fishing experience, contact us TODAY!
$500 Full Day All Day (1–2 Person)
We provide rods and flies, but you are free to use your own.
What to bring:
Waders, if the Weather Dictates
Sunscreen/Insect Repellent
Food/Beverages
Valid PA Fishing License
Extra Clothing-Warm, Dry

Important: If you need lodging, you must handle that. We will assist with where, but we don't have lodging for our Musky/Pike trips.
If you've never fished for Steelhead before, you have no idea what you are missing! These fish will test even the most seasoned fly fisherman and dish out a slice of humble pie to those who take them for granted.
We start the Fall Steelhead season as soon as there is water and fish in the streams, and we will continue until the last fish is back in the lake. We concentrate our Steelhead fishing efforts on Elk, 16 Mile, and 20 Mile Creeks. Fish are caught on egg patterns, sucker spawn, blood dots, and an assortment of nymphs.
If you enjoy fishing the swing, you can't go wrong with Whooly Buggers, Clowser Minnows, Intruders, and egg-sucking leeches, just to name a few. So contact us TODAY to reserve your spot for this awesome game fish.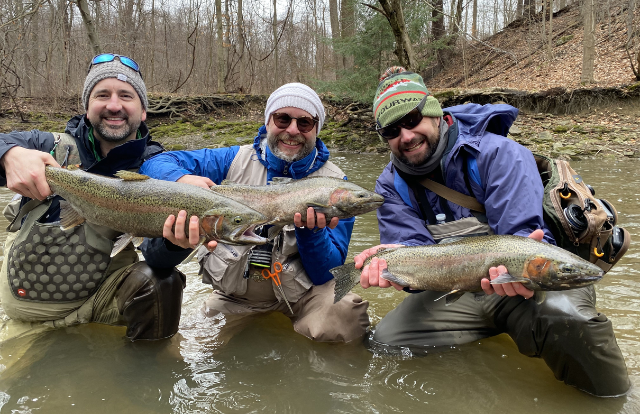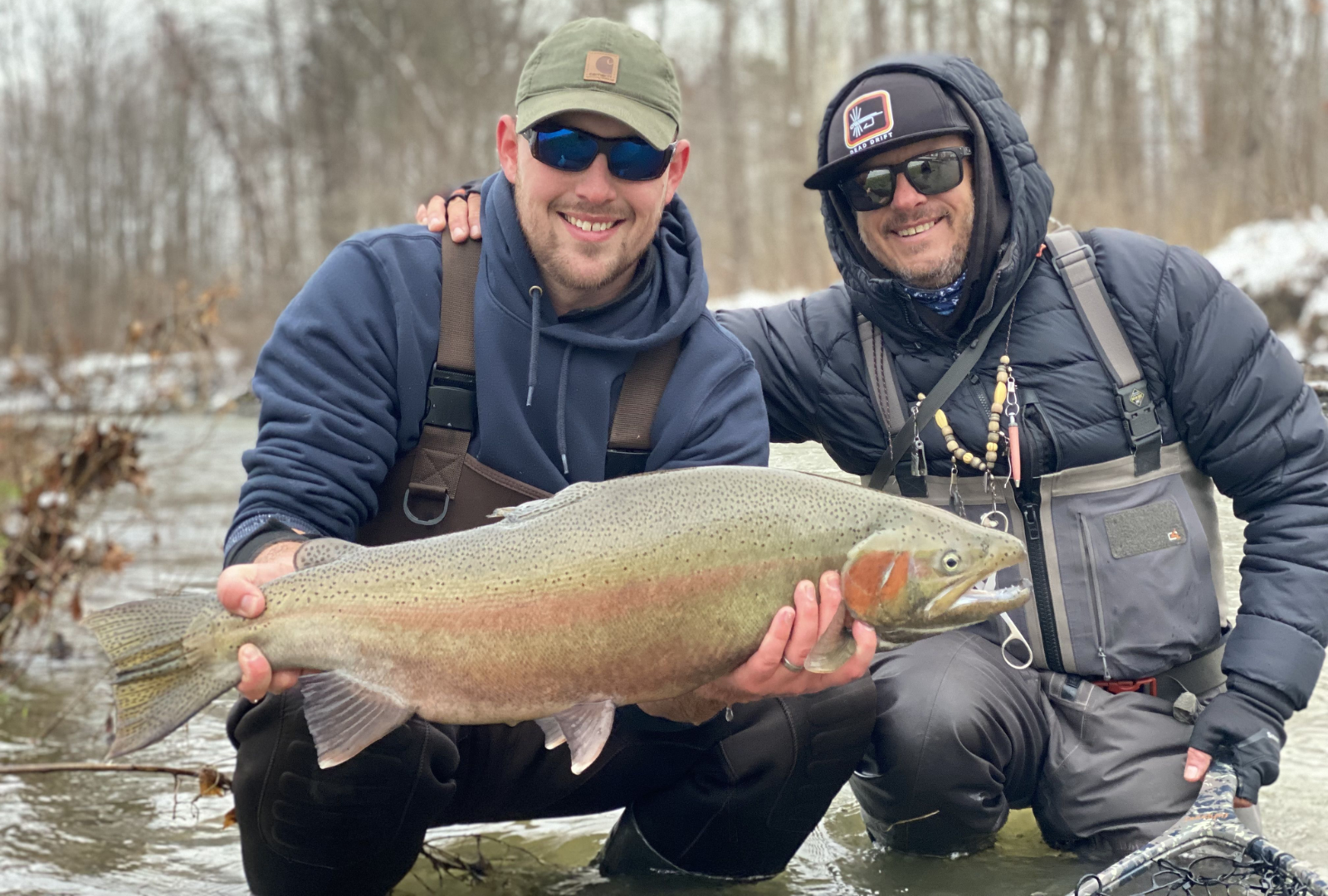 $400 Full Day 8 Hour Trip (1 Person)
$475 Full Day 8 Hour Trip (2 Person)
$550 Full Day 8 Hour Trip (3–4 Person)
Your favorite fly rod in whatever size and weight you prefer. (We do have fly rods available free of charge)
Polarized sunglasses are highly recommended
Flies (We will have boxes full of our favorites)
Food and drinks
Appropriate fishing license and stamps
Camera for capturing your trophy fish
Cold/rain gear
Waders
Half Day Trips are 4 Hours
Full Day Trips are 8+ Hours
IMPORTANT: The Lake Erie Trib fishing is extremely dependent upon rainfall. We will make every effort to monitor the stream conditions and to communicate these conditions with you. Ultimately the decision to travel to Erie to fish is on YOU, the client, and we take NO responsibility for that decision.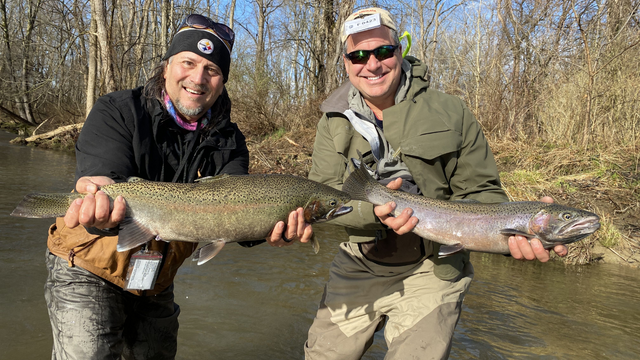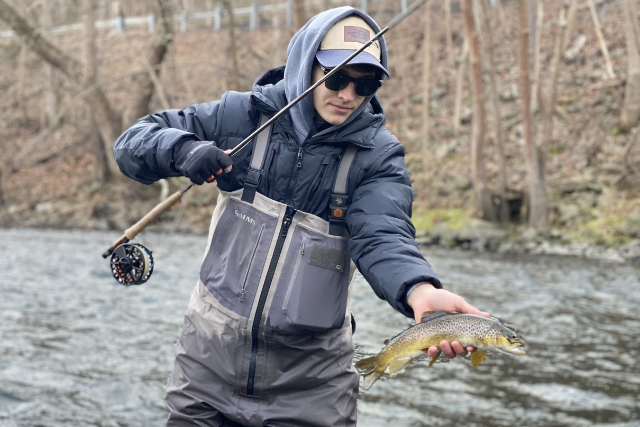 Central PA Wild Trout Trips
Our Central PA Wild Trout trips are my personal favorites and can be booked anytime during the year as long as the water temps allow.
Most of the waters we fish are loaded with wild Browns, but several of our spots have some lunker gear-busting Rainbows. For those dry fly lovers, May–June offers many of the popular Mayfly Species. Sulphurs, BWOs, Grey Fox, Light Cahills, Green Drakes, as well as a multitude of Caddis.
Like all of our trips, we can cater to the difficulty of the trip to the client. This is especially true of the Wild Trout Trips. Sometimes hiking the extra mile makes all the difference between a successful outing and a not-so-successful one.
$400 Full Day 8 hour trip (1–2 Person)
$475 Full Day 8 hour trip (3–4 Person)
Favorite Rod and Reel
Appropriate License and Stamp
Waders
Food/Drink
Flies – We will also have flies
Cold/Rain Gear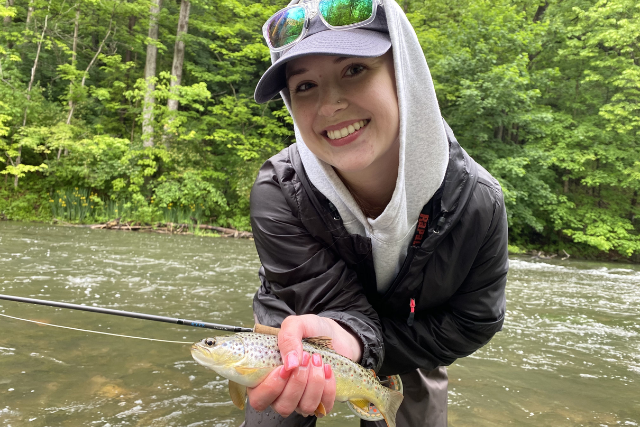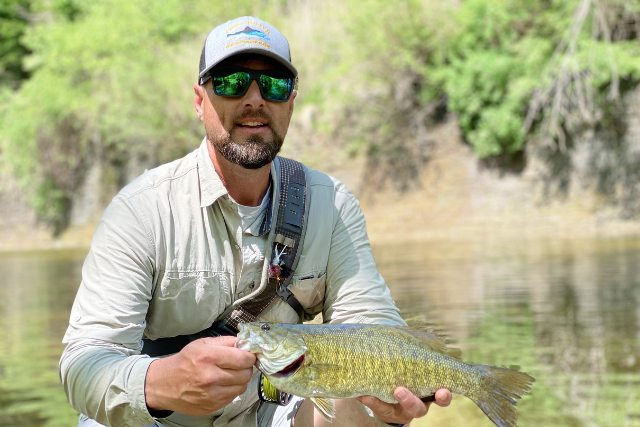 Lake Erie Trib Smallmouth Fishing
Smallmouth Bass are considered the pound-for-pound toughest fighting freshwater fish in North America. Those who have battled these bronze-colored footballs can attest to this strength. Add to the fact that we chase them with the light fly gear you can imagine the fun we have.
We usually start catching a few Smallmouth towards the end of the Spring Steelhead run when the water temperatures rise. The action picks up in early May with the arrival of some of the bigger fish looking to spawn in the upper reaches of many of the Lake Erie Tributaries.
Site fishing for fat territorial females is nothing short of spectacular when they angrily attack your fly. The fishing typically lasts for about a month before the fish vacate the warm shallow spawning waters for their deep water home in Lake Erie.
$300 Full Day, (1 Person) $375 (2 Person) 8+ Hour Trip
$200 Half Day, (1 Person) $250.00 (2 Person) 4 Hour Trip
Our fishermen get special motel pricing at the Steelhead Inn Erie, PA. Please mention "Fishermen Rate" when booking a room. http://www.steelheadinnerie.com/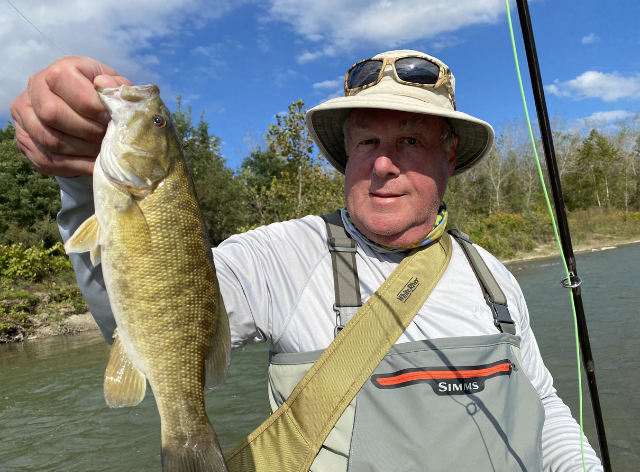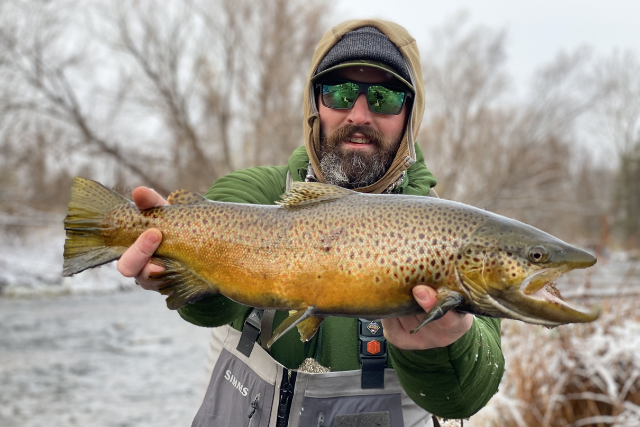 Lake Ontario Brown Trout Trips
You'll be hard pressed to find a more beautiful fresh water fish than a Lake Run Brown Trout. This trip is a favorite for the clients and myself included.
These colored up beauties start migrating out of the depths of Lake Ontario and into the shallow water tributaries in October making them easily accessible to us Fly Anglers.
We use a multitude of different colored egg patterns and the fish are usually pretty agreeable making for really fun time. Because of logistics we only offer a two week period for the Lake Ontario Brown Trout.
Dates are posted via social media in the Summer and on a first come first serve basis. We fish small streams so we like to keep the fishing group to 1-2 Anglers but can accommodate an extra Angler if needed.
Don't wait to book because dates go quick once announced.
Lake Ontario Brown Trout Trips Rates
$600 for 1-2 Anglers for Full day (8 hour)
$100 Extra for additional Angler
Please contact us for additional trip info and lodging details.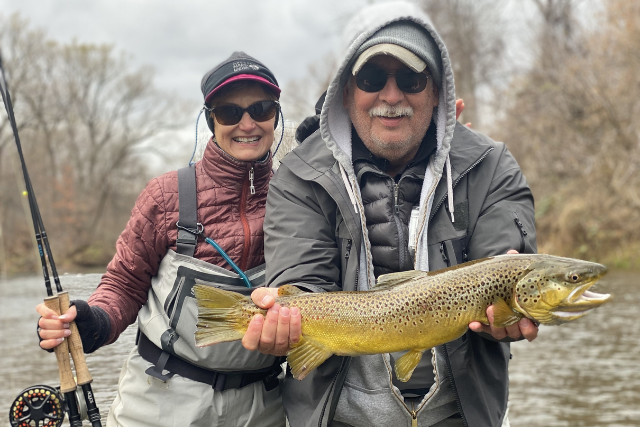 All trips require a $100 nonrefundable deposit to reserve a trip date. In the event of inclement weather, the deposit will be held, and a new trip date will be scheduled. There are absolutely NO refunds on gift certificates!